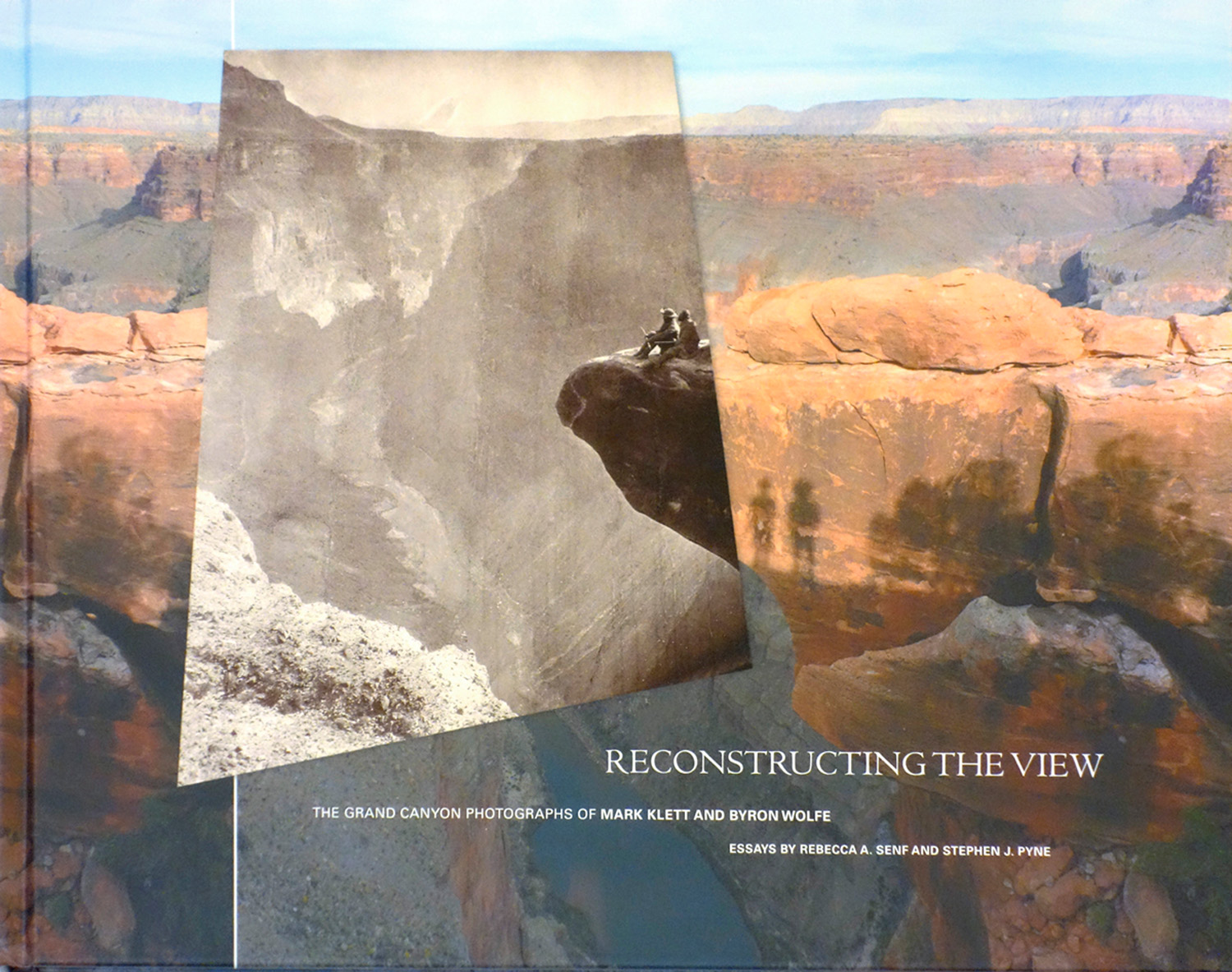 Reconstructing the View, The Grand Canyon Photographs of Mark Klett and Byron Wolfe, University of California Press 2012
Using landscape photography to reflect on broader notions of culture, the passage of time, and the construction of perception, photographers Mark Klett and Byron Wolfe spent five years exploring the Grand Canyon for their most recent project, Reconstructing the View. The team's landscape photographs are based on the practice of rephotography, in which they identify sites of historic photographs and make new photographs of those precise locations. Klett and Wolfe referenced a wealth of images of the canyon, ranging from historical photographs and drawings by William Bell and William Henry Holmes, to well-known artworks by Edward Weston and Ansel Adams, and from souvenir postcards to contemporary digital images drawn from Flickr. The pair then employed digital postproduction methods to bring the original images into dialogue with their own. The result is this stunning volume, illustrated with a wealth of full-color illustrations that attest to the role photographers—both anonymous and great—have played in picturing American places.

Rebecca Senf's compelling essay traces the photographers' process and methodology, conveying the complexity of their collaboration. Stephen J. Pyne provides a conceptual framework for understanding the history of the canyon, offering an overview of its discovery by Europeans and its subsequent treatment in writing, photography, and graphic arts.
The Half Life of History, with William L Fox, Radius Books 2011
There is a twisted steel dome in Hiroshima that stands as a grim reminder of the city's destruction by the first atomic bomb. Halfway around the globe, on the border of Utah and Nevada, stands another ruin. The site that housed the bomber that carried "Little Boy," Wendover Army Air Base, now crumbles from neglect. The stories and relics of Wendover describe more than just the past; they point to a historic cycle, a present increasingly filled with new threats of devastating nuclear and chemical warfare. For this book, American photographer Mark Klett (born 1952) has teamed up with William L. Fox, a celebrated science and art writer whose work focuses on human cognition and memory. Together, the two have created a fascinating visual and textual portrait of Wendover Army Air Base, examining the experience of memory in relation to the great tragedy of America's atomic age. This beautiful book has a wrap-around front board designed so the binding lays flat for easier viewing. The text block is exposed to reveal the stitching at the inner edge.
Saguaros, Radius Books 2007
Mark Klett has been photographing the deserts of the American West, in particular the beauties of the Sonoran landscape-a desert that sprawls across southern Arizona and northern Mexico. Along with coyotes and tumbleweeds, saguaro cacti are one of the most recognizable (and stereotypical) features of this region. Klett's portraits of these giant desert plants are straightforward and frontal. Klett is known for teasing out the implications of man's presence in the environment: here, vital young saguaros, middle-aged contenders with gunshot wounds and wizened elders are treated as worthy inhabitants. This beautifully produced volume, featuring 40 deluxe tritone images, presents a selection of Klett's most evocative portraits with an essay by acclaimed writer Gregory McNamee.
After the Ruins: Rephotographing the 1906 San Francisco Earthquake and Fire, University of California Press 2005
How exactly has San Francisco's urban landscape changed in the hundred years since the earthquake and cataclysmic firestorms that destroyed three-quarters of the city in 1906? For this provocative rephotography project, bringing past and present into dynamic juxtaposition, renowned photographer Mark Klett has gone to the same locations pictured in forty-five compelling historic photographs taken in the days following the 1906 earthquake and fires and precisely duplicated each photograph's vantage point. The result is an elegant and powerful comparison that challenges our preconceptions about time, history, and culture. "I think the pictures ask us to become aware of the extraordinary qualities of our own distinct moment in time. But it is a realization that a particular future is not guaranteed by the flow of time in any given direction." So says Mark Klett discussing this multilayered project in an illuminating interview included in this lavishly produced volume, which accompanies an exhibition at The Fine Arts Museums of San Francisco.

After the Ruins, 1906 and 2006 features a vivid essay by noted environmental historian Philip Fradkin on the events surrounding and following the 1906 earthquake, which he describes as "the equivalent of an intensive, three-day bombing raid, complete with many tons of dynamite that acted as incendiary devices." A lyrical essay by acclaimed writer Rebecca Solnit considers the meaning of ruins, resurrection, and the evolving geography and history of San Francisco.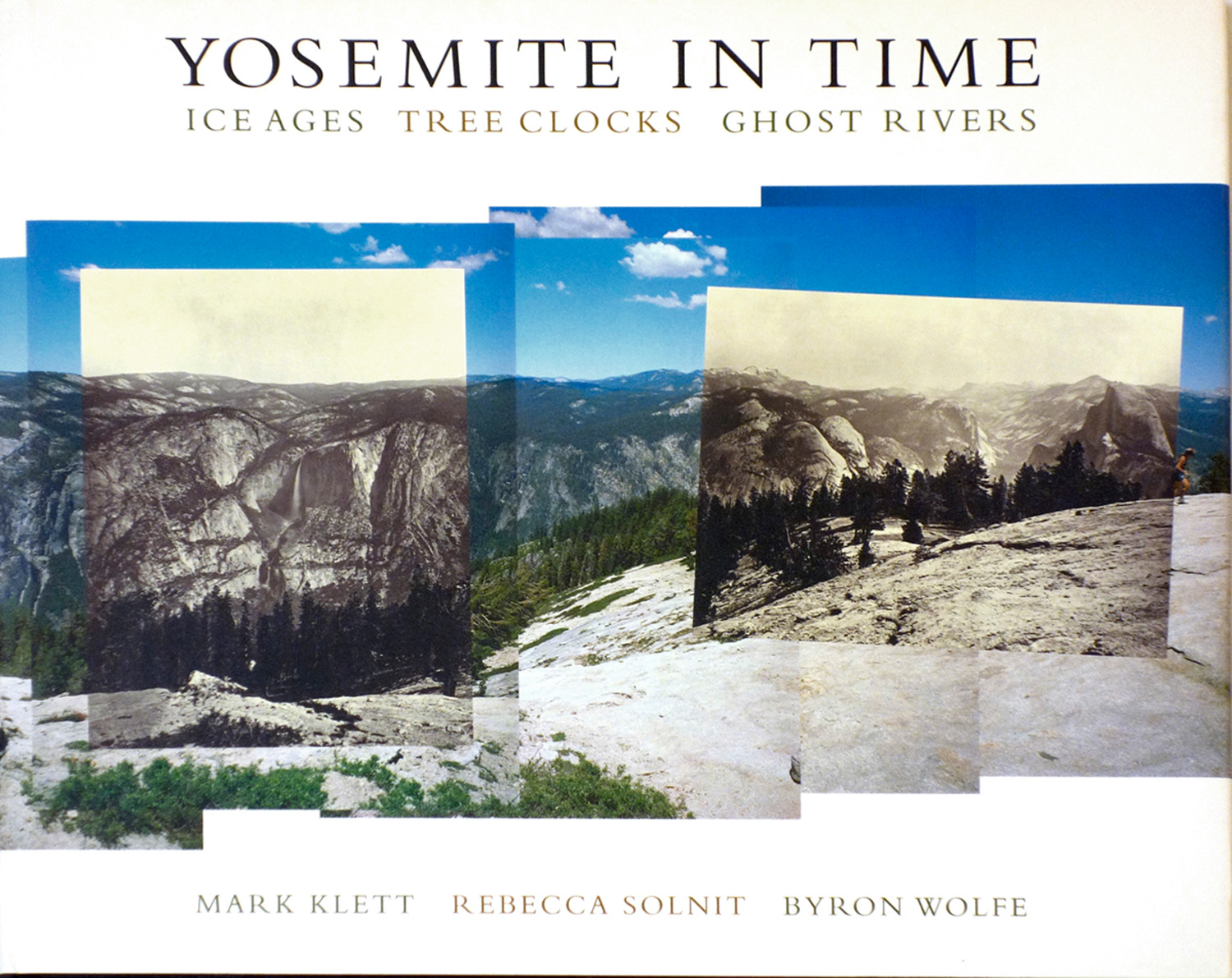 Yosemite in Time, Ice Ages, Tree Clocks, Ghost Rivers, with Rebecca Solnit and Byron Wolfe, Trinity University Press 2005 and 2008
Yosemite is a world-famous location that has attracted photographic greats like Eadweard Muybridge, Edward Weston, and Ansel Adams, along with members of environmental organizations, mountaineers, and countless tourists. Yosemite in Time puts this landscape and its history in a new perspective, with original photographs and panoramas, together with rephotographs of some of the most enduring images taken at Yosemite and three essays by noted critic Rebecca Solnit. The photographs and essays reconsider the iconic status of Yosemite in America's conception of wilderness, examining how the place was interpreted by early Euro-Americans and showing how our conceptions of landscape have altered and how the landscape has changed—or not—over time. Arresting and incisive, Yosemite in Time explores the environmental and imagistic history, science, and politics of a site that has long captured our collective imagination.
Third Views, Second Sights, A Rephotographic Survey of the American West, Museum of New Mexico Press 2004
Third Views, Second Sights presents forty-three photographs taken from a third survey, pairing them with both the original 19th century landscape survey images of the west, and rephotographs taken in the 1970's.

Contributoring writers and artists are William L. Fox, Mark Klett, Kyle Banjakian, Michael Marshall, Toshi Ueshina and Byron Wolfe.
The Black Rock Desert, with William L Fox, University of Arizona Press 2002
Poet and writer William Fox and photographer Mark Klett have teamed up to produce this humble but fascinating volume on the only absolute desert in North America-the Black Rock Desert. A 400 square mile dry lake bed, the Black Rock Desert in Nevada is home to no living thing, aside from the thousands of humans that converge on this desolate corner of America each year for the Burning Man Festival. A beautiful collaboration.
Desert Legends: Restorying the Sonoran Borderlands, with Gary Paul Nabhan, Henry Holt 1994
This new book, a collaboration by well-known photographer Mark Klett and writer Gary Paul Nabhan, is a fascinating journey into the Sonoran desert, at the Arizona-Mexico border. Nabhan's wonderful narrative meanders through the region, exploring the Sonoran landscape and border culturen. Klett's photographs are the perfect accompaniment to this magical journey. Indispensable for anyone interested in the Southwest or Klett's work.
Capital View: A New Panorama of Washington DC, with Merry Foresta, Smithsonian Institution and Book Studios 1994
In 1992 Mark Klett was commissioned to make a new 360 degree panorama of Washington, D.C. Taken from the Nancy Hanks Tower of the Old Post Office Pavilion, this 14 panel color panorama was completed over a period of three seasons. These images are presented in an accordion-fold volume which expands to over four feet. Backing Klett's images are historical panoramas of the city, one by Francis Hacker from 1875 and the other by Frederick Brehm from 1903.
Revealing Territory, University of New Mexico Press 1992
"Mark Klett sees people as a part of the natural landscape. His photographs examine the way people have occupied and experienced this land and the evidence they have left of their presence. Patricia Limerick discusses the photographs in the light of new definitions of the West, and Thomas Southall's biographical essay traces the evolution of Klett's photography."--the publisher. An extraordinary collection of Mark Klett's work, exquisitely designed and printed, based on an major exhibition of Klett's work at the Amon Carter Museum in Fort Worth.
Photographing Oklahoma. 1889-1991, Oklahoma City Art Museum 1991
In Photographing Oklahoma 1889/1991 Mark Klett has juxtaposed modern photographs of Oklahoma City with historical photographs taken around 1889. This city was built as result of the land rush and Klett provides a fascinating view of the swiftness of its urbanization.
One City/Two Visions, Bedford Arts Publishers 1990
This unusual book is the fourth in a series of accordion-fold titles which "at rest" or on a shelf measures 9 x 12 inches, but when unfolded extends to 101/2 feet. One side of this unfolded publication features a superb reproduction of the 360' 13-part mammoth-plate panoramic view taken of San Francisco in 1878 by the important early photographer Eadweard Muybridge. Only five known originals of this Victorian-era panoramic series are thought to exist - so the view contained in One CitylTwo Visions is one seldom seen. The other side of One CitylTwo Visions features a 1990 panorama by the contemporary photographer Mark Klett, who is known in photographic circles for his reshooting of historical photographs of the West. Klett created his own sweeping image from approximately the same location atop San Francisco's Nob Hill where Muybridge stood nearly a century earlier. The clarity of each image - due equally to the photographers and the reproduction process - is remarkable. The British-born Muybridge established a world wide reputation with his early photographs of Yosemite, as well as his studies of human and animal locomotion in which he helped prove there was a moment when all four of a horse's legs were off the ground at once. His panoramic views were one more aspect of his brilliant and inventive career. One CitylTwo Visions includes an introduction by the art historian Peter Bacon Hales and an essay by Klett, "A Note on Rephotographing the Muybridge Panorama." -- From Independent Publisher
OUT OF PRINT
Headlands: the Marin Coast at the Golden Gate, with Miles De Coster, Mike Mandel, Paul Metcalf, and Larry Sultan, University of New Mexico Press 1989
Commissioned by the Headlands Center for the Arts, this fascinating book is a collaborative project bringing together the talents and insights of five artists. Metcalf developed his text by compiling existing material into a literary assemblage. Klett photographed the Headlands in their current state. Sultan and Mandel researched military files as well as the National Archives to create an historical portrait of the area. DeCoster, a book artist, assembled the material and designed the book. A complex project, as remarkable as it is unique and multi-layered.
Traces of Eden: Travels in the Desert Southwest, David R. Godine 1986
In the tradition of the great 19th century landscape photographers, Klett has produced a beautiful body of work that documents his travels throughout the southwestern states. Klett uses Polaroid materials, writing date and title directly onto each print. Traces of Eden is beautifully printed both in duotone and color on matte stock.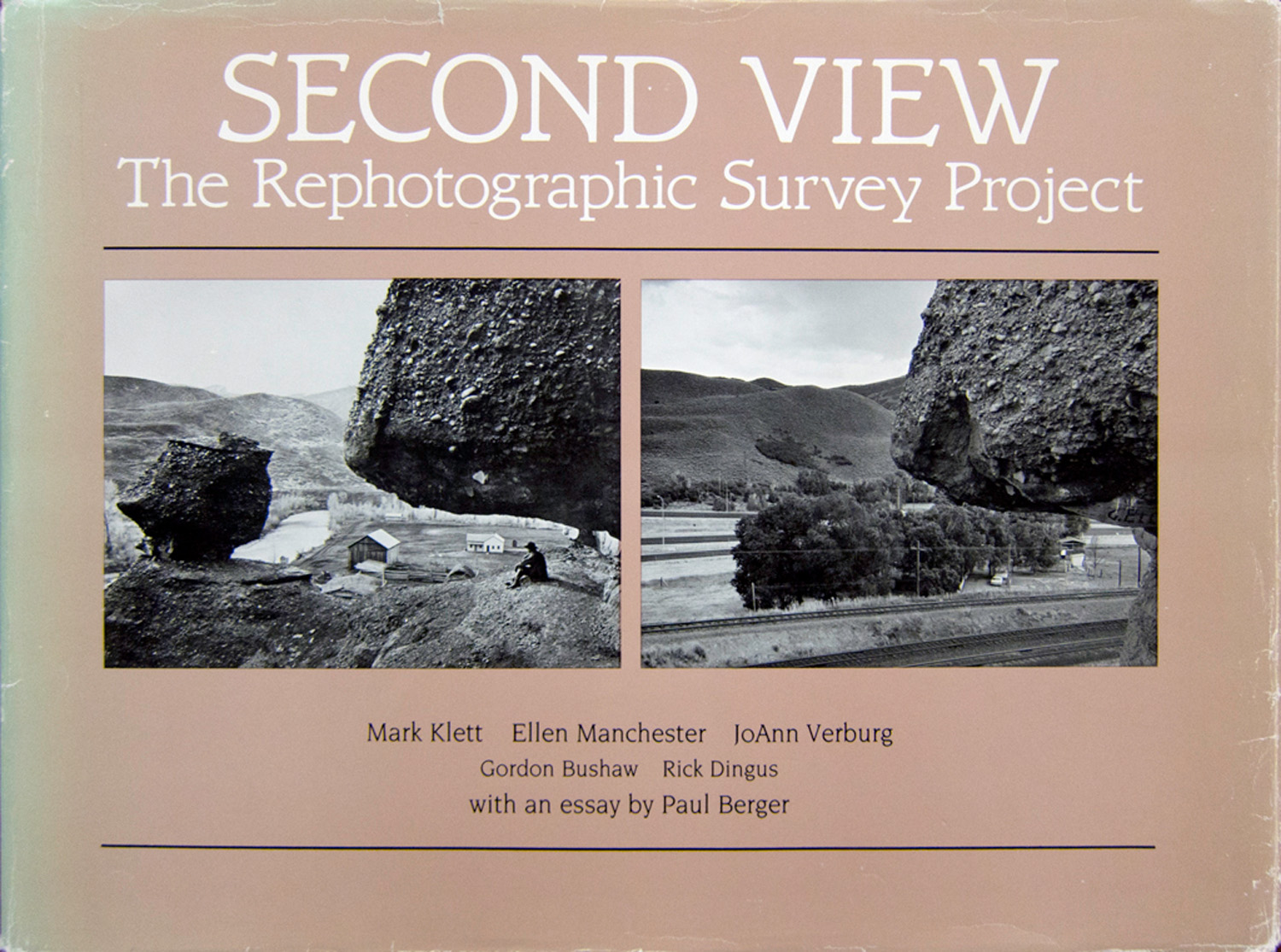 Second View: The Rephoto- graphic Survey Project, with Ellen Manchester and JoAnn Verburg, University of New Mexico Press 1984
During 1977, Ellen Manchester, Mark Klett, and JoAnn Verberg conceived the rephotographic survey project in which a group of photographers duplicated as nearly as possible, views of the Western landscape made by nineteenth-century photographers. Over a period of three years, using the photographs of O'Sullivan, Jackson, Hillers, Russell, and Gardner, along with government maps and notes, the survey found 120 of the orginal sites. They then made photographs that matched the originals in both angle and light. All 120 matched pairs are included here superbly printed in duotone. The wealth of information that they uncover should delight photographers, artists, documentarians, geologists, environmentalists, aestheticians, and many others for years.